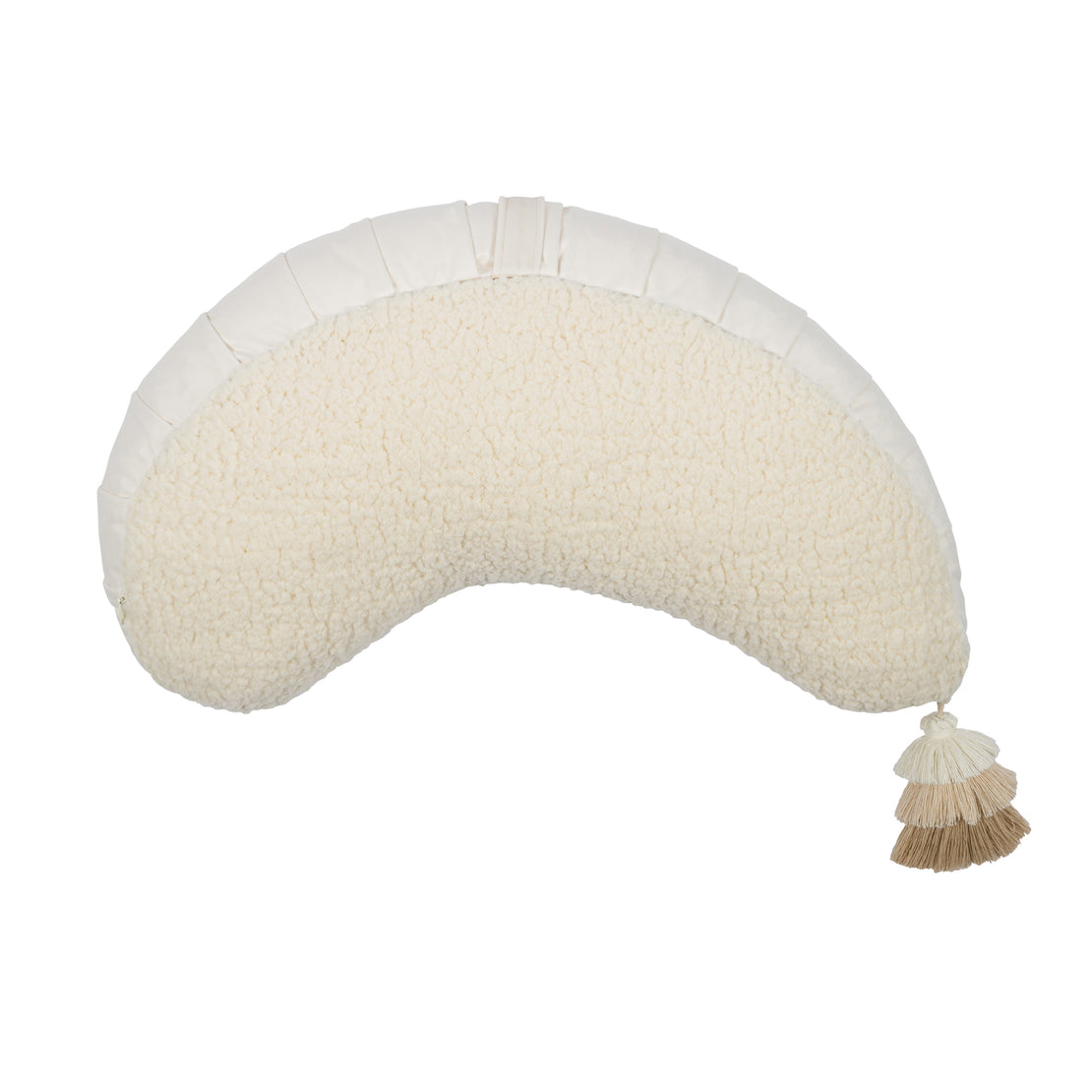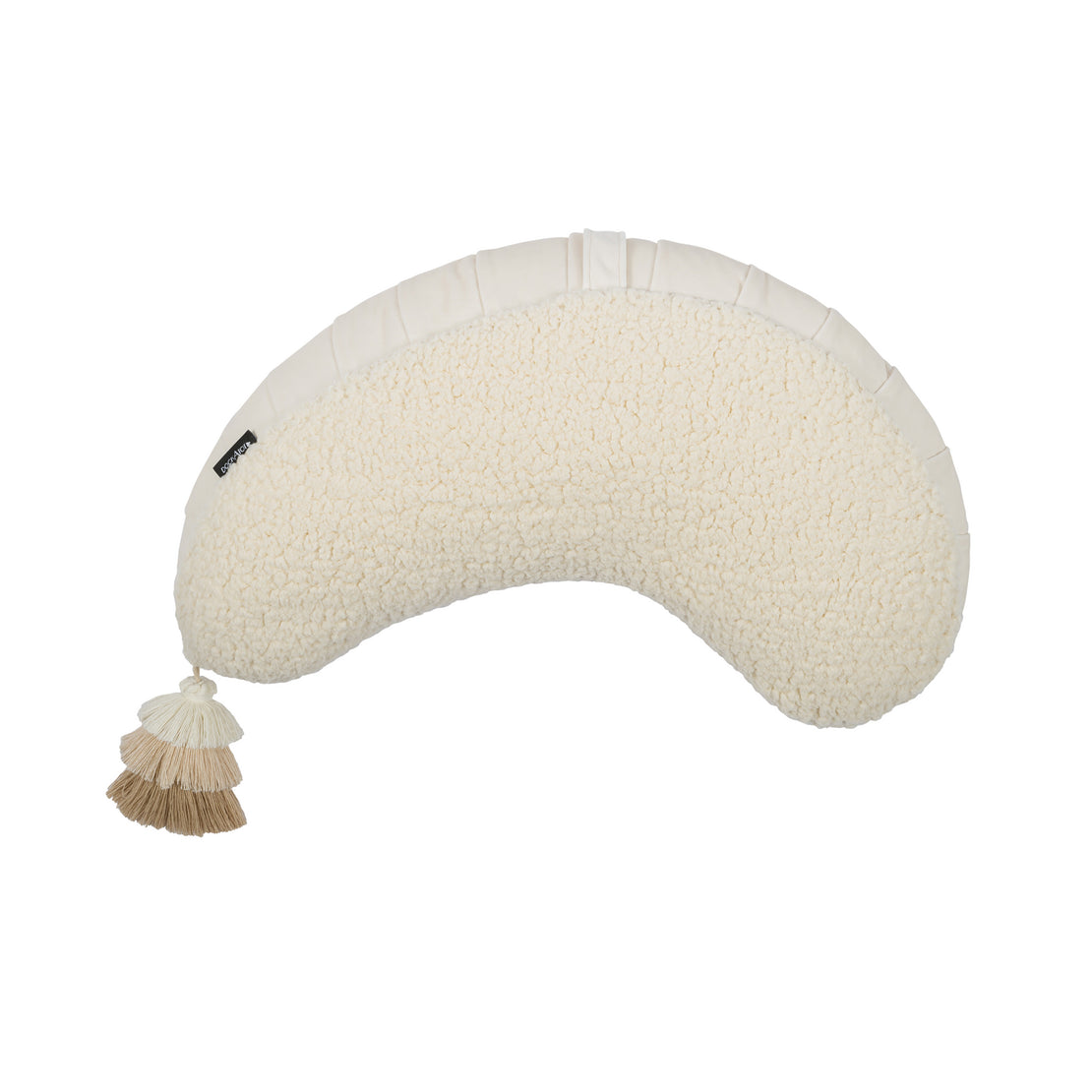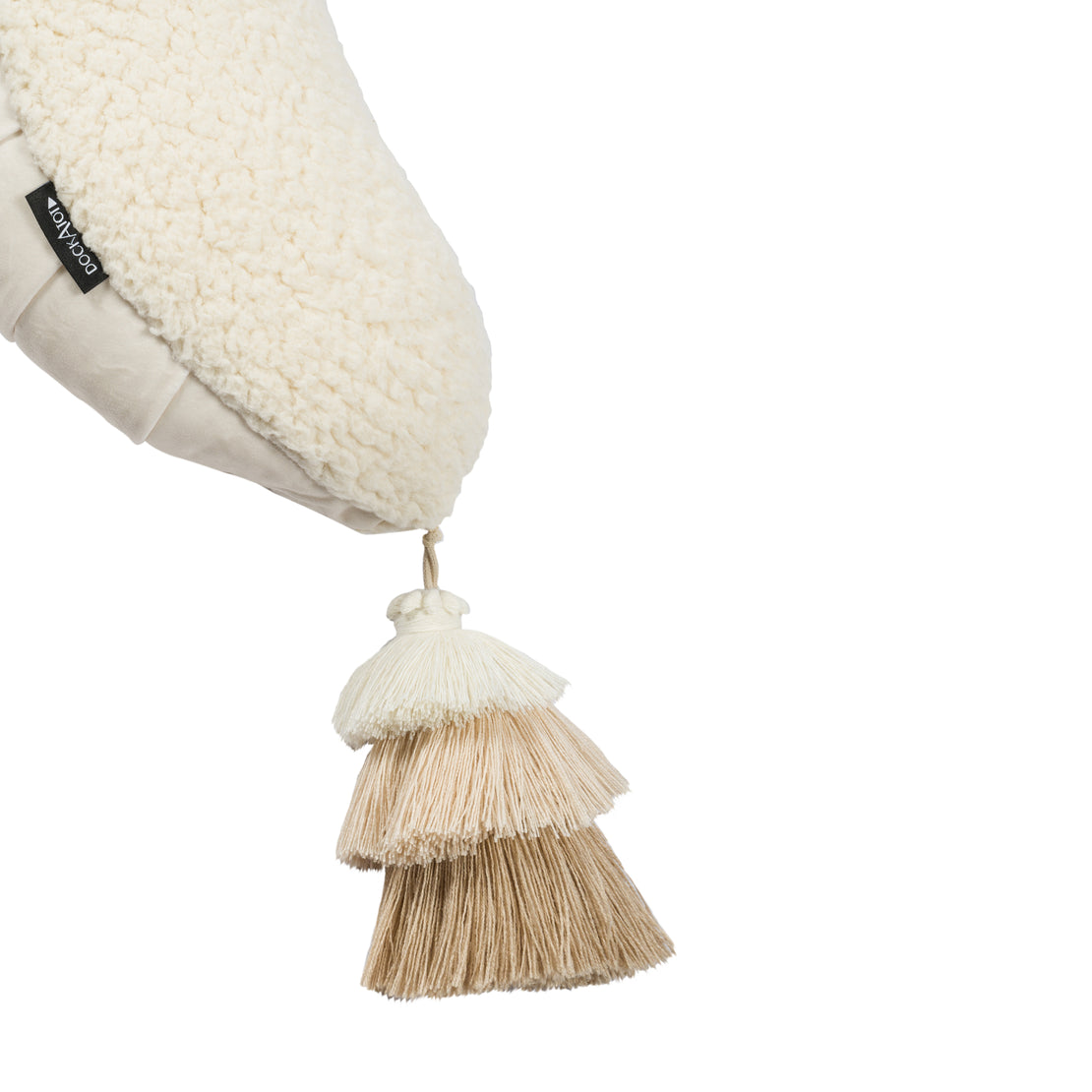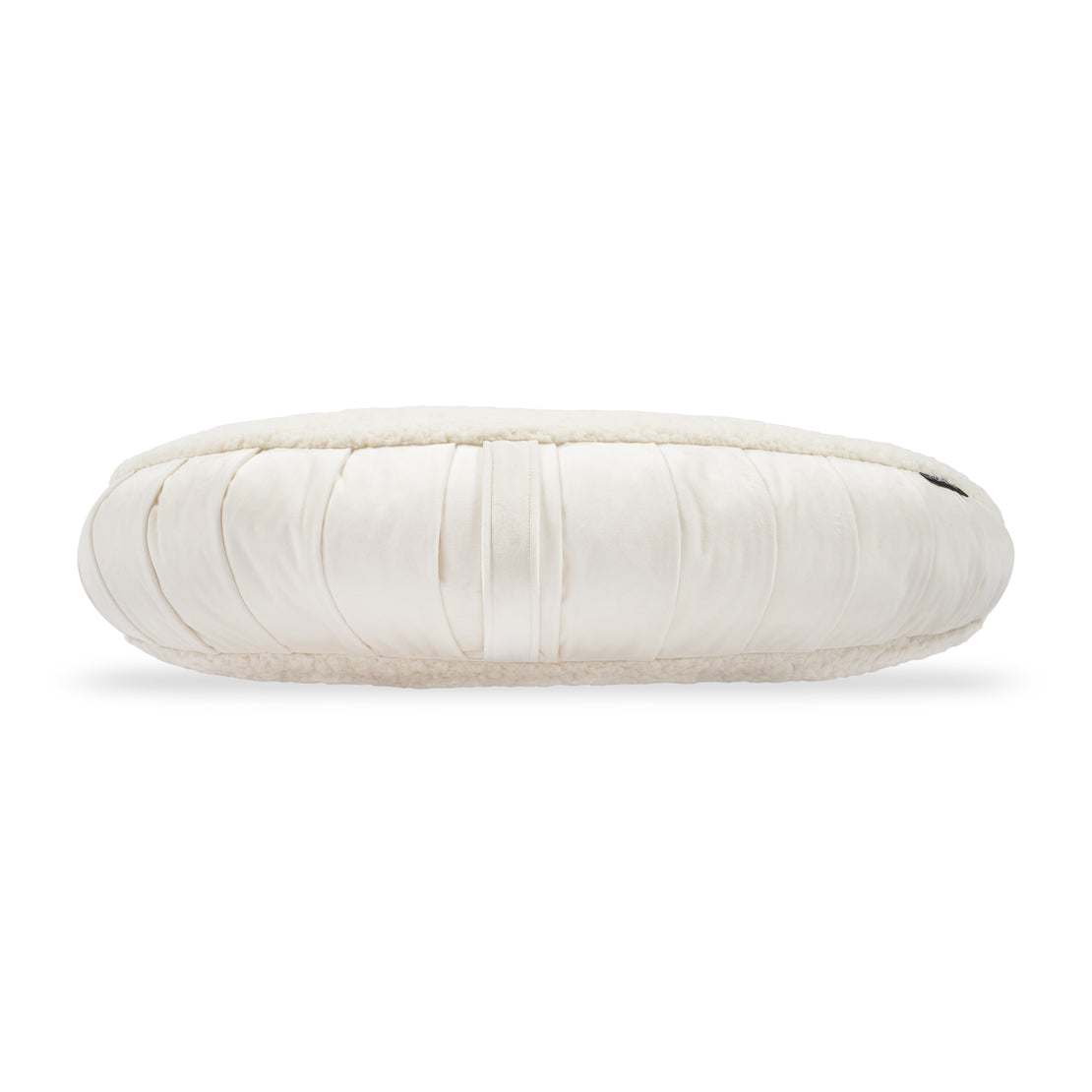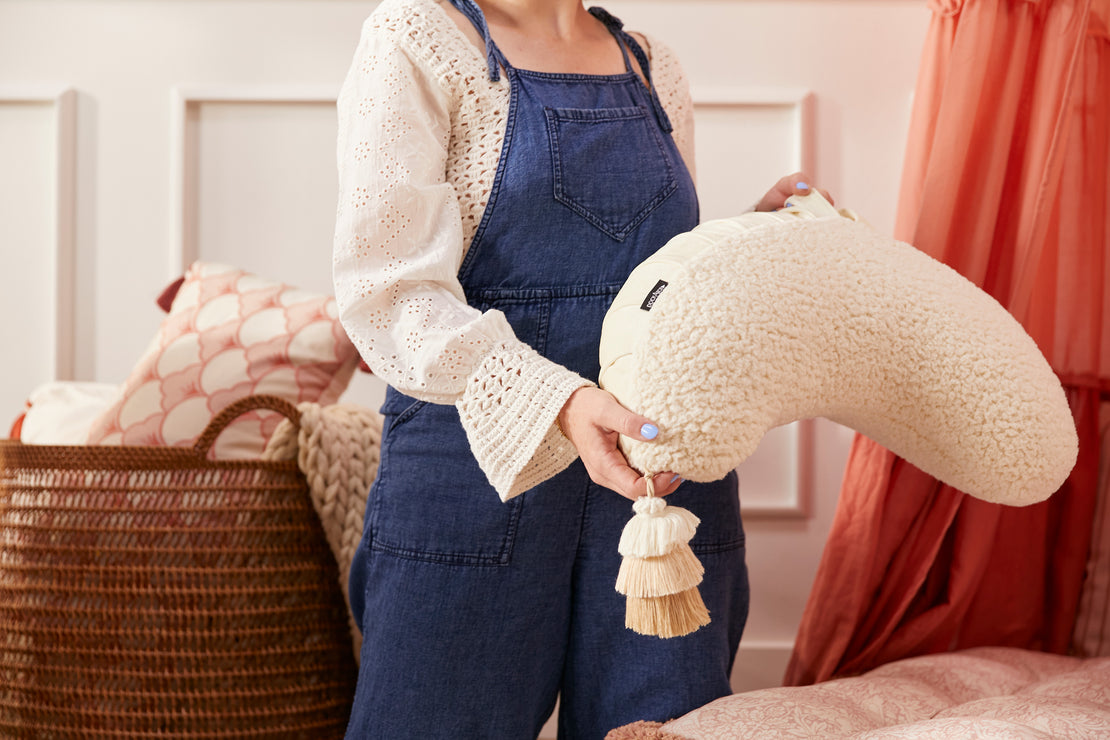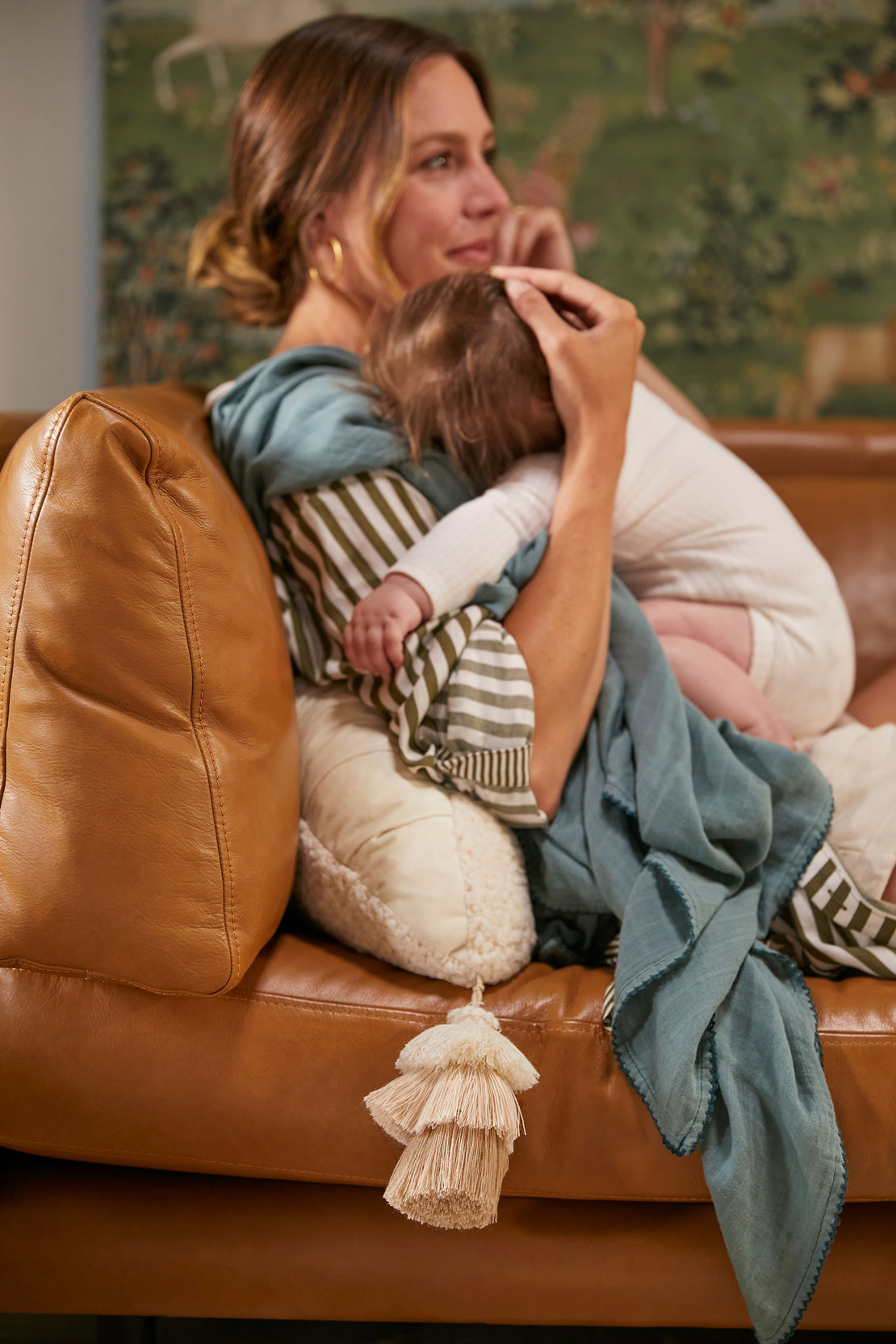 La Maman Wedge - Boucle / Cream
In line with our craftsman approach, we elevate this creamy solid with an ultra-soft boucle, luxe velvet, and tri-toned artisan tassel. 
More details
Learn more about shipping here.
FREE Shipping in the U.S. on orders over $75
Add your gift message at the cart
Product Description
This stylish accent cushion is actually a smartly designed nursing pillow in disguise. Baby bonding time gets taken to new heights with this cradling pillow that curves around the body to support baby or mom's arms during nursing sessions. You won't mind leaving this chic nursing pillow out on the couch when company stops by.
Uses
Supporting mom and baby during nursing sessions
Encourages bonding between baby and caregiver
Home decoration
Testing and Certification
REACH compliant for chemical safety
Additional testing for the presence of harmful phthalates and heavy metals

Meets or exceeds children's product safety regulations (US CPSIA 2008)
Designed and tested for durability
Tested for compliance with California Proposition 65
Tested to multiple fabric performance standards
Key Features
Made from easy clean boucle and velvet
Concealed zipper
Curved, ergonomic shape
Dimensions:
57 x 34 x 17cm; 22.5 x 13.3 x 6.7in
La Maman Wedge - Boucle / Cream
La Maman Wedge - Boucle / Cream
Reviewed by chiquinquira h.
Verified Buyer
I recommend this product
Beautiful and comfortable
I really appreciate the density of this nursing pillow to help keep baby well-supported without me having to lean forward much. The design is so lovely and coordinates wonderfully with my other couch pillows
I recommend this product
Fun print
Very reasonably priced and I love the print!!
I recommend this product
Reviewing
La Maman Wedge - Bronzed Cheetah
Cute little helper! Was purchased for a baby shower-mom loves it!
We'll made cushion for Mom.
I recommend this product
Reviewed by Jacqueline K.
Verified Buyer
Love it!
I bought one for me and love it and this one is for my sister-in-law!!
I recommend this product
Beautiful and functional!
Fits perfectly. Best nursing pillow I've tried. And love that it's beautiful too!
I recommend this product
Love my La Maman Wedge!
I'm obsessed with my La Maman Wedge and want them all over my house now. I love how firm they are, stylish, and how they don't take up a ton of space. I have the Boppy for comparison and find that my baby always flops around as he feeds and slowly slides off the pillow. Since he has a tongue tie that can mean actual pain for me if he flops into a new position.
La Maman Wedge is beautiful and the velvet fabric is buttery soft. I definitely will want more!
I recommend this product
Reviewed by Meredith Leigh B.
Verified Buyer
Absolutely Perfect
I have both size DockATots (one for each child) in this print and I've been struggling with my current nursing pillows being too firm or too soft (I have one from the most well know name and one from Denmark) so I snagged this during the F&F sale. This nursing pillow is the perfect size, shape, and firmness and it looks so nice on my Living Room couch.
I am tall with a long waist, so I really struggle with back issues while nursing and needed a pillow that I could adjust. The crescent shape of this one with the tapered end makes it easy to adjust where baby lies creating more or less height and enables me to get comfortable during long feedings. I'm also married to a tall man and both our children are in the 99th percentile for length/height and this pillow is large enough to adjust my now 3-month-old without too much trouble.
The embroidery is absolutely gorgeous and reminds me of sweet dreams and fairy tales. We have a blue and white (think chinoiserie) with pink accent theme in our Living Room and it fits in really nicely. I have my DockATots set up in there instead of our Playroom because it's a more central location in our house and they fit in with the formal decor quite well. I can easily feed them place my little one in the DockATot for a little break from holding. The only thing to note on this is that the base fabric is different on the DockATot and the La Maman wedge. The DockATot fabric is more of a creamy cotton canvas and the La Maman wedge is a grey-white…
I recommend this product